Management
Associates
Professional Associations and Certifications
Quick Reference of Useful Sites
Careers
Information Request
Contact Us
Professional Associations and Certifications
Professional Associations and Governance Reference Sites

Staying abreast of the changes in technology and regulatory requirements is must for professionals in this field. We are associated with or are members of the following professional associations and organizations, followed by a listing of useful links.





The South Florida Technology Alliance (SFTA) promotes the growth, success and awareness of this vibrant technology community. Our focus is to foster an exciting network of companies, academia, capital resources, and government for the immediate and future success of technology-related interests in our region.





Committed to member service and the public interest, the American Institute of Certified Public Accountants (AICPA) and its predecessors have been serving the accounting profession since 1887. – Certified Public Accountant (CPA)





The Institute of Internal Auditors (IIA) is an international professional association of more than 150,000 members with global headquarters in Altamonte Springs, Fla., United States. Throughout the world, The IIA is recognized as the internal audit profession's leader in certification, education, research, and technological guidance. – Certified Internal Auditor (CIA)





ISACA is a pace-setting global organization for information governance, control, security and audit professionals. Its IS auditing and IS control standards are followed by practitioners worldwide. Its research pinpoints professional issues challenging its constituents. Together, ISACA and its affiliated IT Governance Institute lead the information technology control community and serve its practitioners by providing the elements needed by IT professionals in an ever-changing worldwide environment. – Certified Information Systems Auditor (CISA), and Certified Information Security Manager (CISM)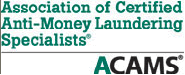 The mission of ACAMS is to provide a forum for career advancement, and to help develop the skills that AML practitioners require to optimize daily functions, improve job performance and expand employment opportunities. ACAMS offers professionals the tools to gain expertise in the areas of detection and prevention of money laundering worldwide, and arms them with the information to promote the development and implementation of sound anti-money laundering strategies and practices.





The Information Systems Security Association (ISSA)® is a not-for-profit, international organization of information security professionals and practitioners. It provides educational forums, publications and peer interaction opportunities that enhance the knowledge, skill and professional growth of its members. With active participation from individuals and chapters all over the world, the ISSA is the largest international, not-for-profit association specifically for security professionals. – Certified Information Security Manager (CISM) and Certified Information Systems Security Professional (CISSP)





The PCI Security Standards Council is an independent body formed to develop, enhance, disseminate and assist with implementation of security standards for payment account security. The PCI Security Standards Council will maintain and evolve the PCI Data Security Standard, while working to promote its broad industry adoption, and while providing the tools needed for compliance with the standard. These tools include critical documents such as audit guidelines, scanning vendor requirements, and, in a few months, a self assessment questionnaire. These functions are as important as the promulgation of the standard itself. – PCI SDA (Site Data Protection) external network scanner





The Association of Certified Fraud Examiners (ACFE) is a member-based global association dedicated to providing anti-fraud education and training. Together with its members, the ACFE is reducing business fraud worldwide and inspiring public confidence in the integrity and objectivity of our profession. The ACFE is the world's premier provider of anti-fraud training and education. The ACFE is reducing business fraud world-wide and inspiring public confidence in the integrity and objectivity within the profession. – Certified Fraud Examiner (CFE)